Momentous day today! I printed the last black-ink pass of the book — the 16th of 16 passes! I was able to take one of each sheet, cut them (badly) to size, and fold them as they'll be bound in the book, and, well, it's pretty exciting. After hitting the doldrums at the end of my printing sprint, I was refreshed and in a few sessions printed the remaining passes. Over time, I've been able to control the page "color" better (relative darkness and overall evenness), but variation is less noticeable when the book is folded into pages as you don't see the up to four pages on a sheet at once. I was definitely pushing the capability of the 70-year-old-plus press.
(After printing thousands of impressions on "Eve," the name of the particular Vandercook proof press I've used throughout, I have its serial number memorized: 10017. And a quick search online tells me that serial number was issued between 1946 and 1947. Happy 70th birthday, Eve!)
I recorded a video today narrating the process of how I was making decisions and how impression, inking, and the printing surface all work together.
What's left?
The second color, the ink for which arrives in a couple days. I have 13 sides of sheets to print illustrations and a period on the title page (!) for that.
Picking chapter numbers, cutting them on a laser cutter, mounting them on plywood, and printing five sheet sides that have chapter numbers.
Designing, hand composing, and printing the end papers with backers' names.
Turning the cover concept into a design and determine how it will be printed, debossed, and/or engraved or cut.
I had a long talk with our bookbinder last night about thread and other details to keep the scheduling moving along. At the current rate, I should have the rest of the printing and other elements done within July, possibly by the third week, at which point I'll cut the press sheets to folios, have a folding party with letterpress community friends, and deliver the stacks to Jules, the binder.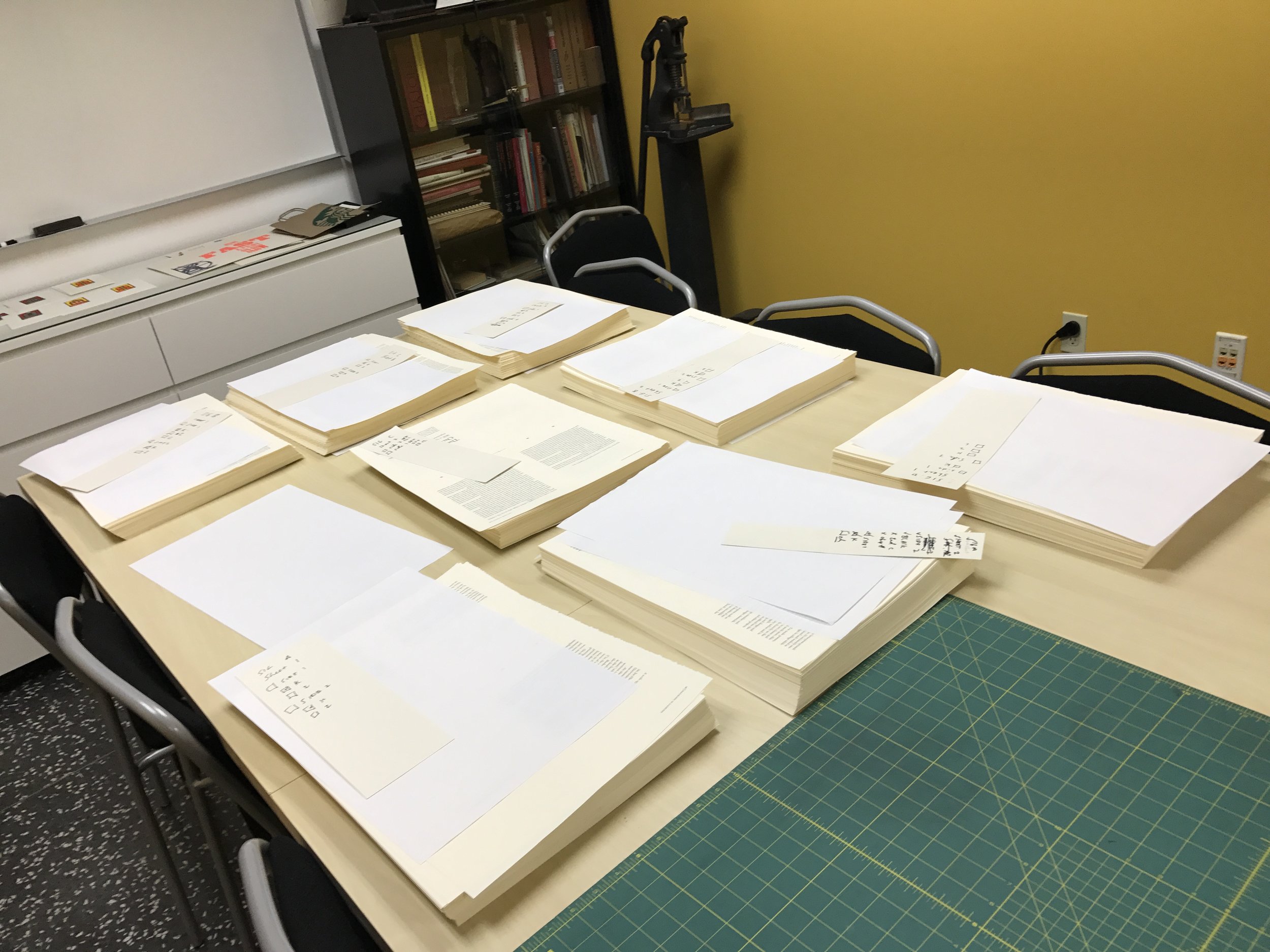 All the sheets that will make up the finished book.